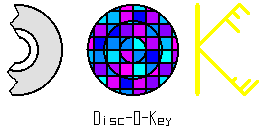 Gur Ladizhinsky
My name is Gur Ladizhinsky. I'm the programmer, the graphics maker and the manager of the team.
I also write all the in-game text and, along with Dan, write the story and the characters.
I'm one of the original founders of Disc-O-Key and have actively worked on every game thus far.
I make games to share my ideas, and hope that you have fun playing them.
Dan Zander
This is the second year I learn in the high school Thelma Yellin for arts. The main courses I take are arts and physics. I am the concept designer of the games, and the 2d animator.
Lyle Cohen
Ofir Israeli
Nadav Tirosh-Warshai
Hey There!
My name is Nadav, and I am the site-manager of "Disk-O-Key" and a game-tester.
I am excited to show you our new site, after a lot of work!
if you have questions for me,
you can send me email to:ndv.0401@gmail.com