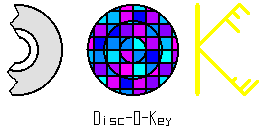 Welcome to the homepage of "Disc-O-Key" website!
Disc-O- Key is a nonprofit game development team. We are 16-17 old developers that want to show the world our ideas by creating games and letting others have fun. We want to make games from all kinds and genres so they will be as creative and non-repetitive as possible. We hope you enjoy our games, and have fun!
Latest Gravity Banana: Part 2 (closed alpha) update:
Latest news:
Gravity Banana: Part 1 is out!
Update (18/03/2019): The launcher was updated to version 1.2.5. Please update it.
Update (04/01/2019): The game was updated to version 0.9.3.3. Please update it.
Update (01/01/2019): The game was updated to version 0.9.3.2 and the launcher to version 1.2.4. Please update them.
Gravity Banana: Part 1, our newest game, is finally out! Gravity Banana: Part 1 is an action-platformer game and the second game of the Test Area 112 series. The game revolves around Gravity Banana and its allies in their quest to destroy all Pickles and escape the lab in 5 diverse environments. Fight countless Pickles, challenge powerful bosses and escape the lab!
Click here to download it for PC!
Tap here to download it for Android!
Click here to watch the trailer!
In addition, we released our new launcher to allow you to easily view, download and update all our games on your computer. It can automatically download games and updates from our site, without the need to unzip them and check it regularly for updates.
Click here to download it now!
Finally, we added a new part to our site, Latest Developments, which will include weekly updates about our ongoing projects.
Published in 31/12/2018
Latest developments:
(Latest developments are monthly updates about our current progress.)
Post-March update
In the last two months, our progress remained slow. We finished about half of the basic gameplay, but don't have a single model yet. However, I think that once we finish programming the gameplay, our progress will speed up. The things we work on now aren't very interesting, so we will auto-update the latest version's changelog in this site to show our progress instead (see above). If we have anything to say, we will do so here or in the News section.
Published in 02/04/2019
About us
At the start of 2014, the original 3 founders of the team decided to create a new game development team, "Disc-O-Key". We were only 12 years old then, but we already started making games. Our site was first published in 15 May 2014, and already included our first game, "Boomby". It was just our first step into the development world, and since then we just improved. Members joined and left, games created and cancelled, but we kept coming up with new ideas, new stories, new games. Currently, this is our team and roles:
Gur Ladizhinsky - programmer and graphics maker. One of the original founders.
Dan Zander - designer and planner. One of the original founders.
Lyle Cohen - Music maker. Joined shortly before we finished Gravity Banana: Part 1.
Ofir Israeli - Programmer. Joined shortly before we finished Gravity Banana: Part 1.
Nadav Tirosh-Warshai - Site manager and game tester. Joined shortly after we finished Crock.
Other important members who left:
Yotam Lev - One of the 3 original founders. Helped with the original site, but left before it was even published.
Matar Eliaz - Helped with our first collaborative game, Gravity Banana, but left shortly after it.
Feel free to contact us at disc.o.key.devteam@gmail.com!